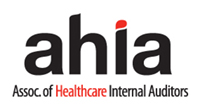 Clearwater is trusted by hundreds of audit, privacy, security and compliance professionals to provide a wide range of award-winning cybersecurity, compliance and information risk management educational resources, software and professional services.
We extend a warm welcome to AHIA members to contact us for an initial free consultation on how we may assist you with your compliance and information risk management goals and objectives.
Clearwater CEO, Bob Chaput recently presented a co-sponsored webinar titled, "Calculating the Cost of Data Breaches & Building a Business Case for a Cyber Risk Program."
In this webinar, Bob took a step-by-step approach to tallying the true cost of a healthcare data breach and discussed how to build a strong business case to protect ePHI and cyber security investments.
Resources for AHIA Members
Webinars
Join one of our free webinars presented by industry experts.
These events offer valuable information and insight on a range of compliance topics of interest to compliance professionals and risk managers. Learn about cyber risk management best practices and HIPAA solutions from the experts!
View our live web events calendar!
White Papers
Gain insight into current hot topics in the HIPAA compliance and cybersecurity space, with a range of white papers delivering best practices, strategic ideas and tactical guidance.
Special Offers
We are happy to extend an invitation for AHIA members to join our HIPAA and Cyber Risk Management BootCamps™ for the significantly reduced rate of $295 (regularly $595).
Newsletters
Subscribe to our monthly newsletter to be the first to hear about the latest news and upcoming events.
About Clearwater
Clearwater provides the most complete and trusted, enterprise-class cyber risk management solution available. Designed for healthcare providers and their partners, Clearwater's IRM|Pro® platform and experienced professional services team provide insights and actions to address compliance, cyber and patient safety risks. Clearwater is a 2017 Inc. 5000 fastest-growing company, the 2018 Best in KLAS winner in Cybersecurity Advisory Services, the 2017 and 2018 Black Book Marketing Research winner in Compliance and Risk Management Solutions, and exclusively endorsed by the American Hospital Association as well as numerous state hospital associations. Clearwater solutions have been deployed within hundreds of hospitals and health systems, Fortune 100 organizations, and federal government institutions. More information about Clearwater is at clearwatercompliance.com.
How We Help Privacy and Security Professionals
Rely on our award-winning software to guide you through an effective cyber risk management process based on OCR guidelines and the NIST Cybersecurity Framework.
Years of direct front-line, real-world experience guarantee that our experts are a wise choice to help you implement all aspects of an effective HIPAA compliance program.
Strengthen your knowledge with our range of in-person and online educational opportunities. Create your own learning journey.
Popular Solutions for Privacy Professionals
In addition to the solutions listed here, we offer a full range of consulting services tailored to suit your needs. Contact our team today to discuss your requirements.