Risk analysis and the larger order of cyber risk management can be difficult for most organizations. That's because as organizations adopt new technologies to streamline operations and offer better services to their clients, the attack surface and opportunities for potential breaches grow with it.
This is especially true in healthcare, where attackers know these organizations create, receive, store, and transmit sensitive and protected data that can potentially bring a lucrative payout if they can infiltrate systems and networks. On top of that, healthcare organizations face a growing and ever-more complicated list of regulatory and compliance standards.
To complicate the issue further, healthcare's staffing crisis extends beyond clinical positions to privacy and security talent too. Most healthcare organizations just don't have the skilled personnel, resources, or funding to keep up. This is especially true for large healthcare systems and hospital groups, where personal health information (PHI) is coming and going out of many systems across various locations, managed by many people directly employed by the organization, as well as contractors and some vendors.
To get an edge and stay ahead of threats, bad actors, and common employee mistakes, hospitals and health systems are partnering with experts who can help them establish continuous cybersecurity and HIPAA compliance programs that keep a constant pulse on their risks and vulnerabilities and help them manage the controls that keep their data and systems secure. These programs are often referred to as Enterprise Cyber Risk Management (ECRM).
Thinking Beyond Risk Analysis
Risk analysis is important, critical even, to the security and integrity of your cybersecurity and HIPAA compliance program. But for many healthcare organizations, risk analysis gets done as a snapshot in time of their risks, quickly outdated when the next software, system, or medical device gets added to their digital landscape.
ECRM leverages ongoing risk analysis as part of a set of cyber risk management strategies that continually evaluate information assets against their policies, procedures, and controls to ensure they meet the highest standards for privacy and security. ECRM also leverages business impact analysis to connect the dots between which workflows are dependent on which systems, what downtime will cost, and what the threshold looks like for each scenario. When you add additional components like vendor risk management, cloud and application security testing, and others, get a program that covers your organization from multiple angles, can scale and flex as your organization grows and changes, and positions you favorably should you find yourself faced with an OCR investigation or a breach of some kind.
Is A Comprehensive Program Really Necessary?
So far, in 2022, the Office for Civil Rights (OCR) has launched investigations into more than 300 cyber breaches affecting 500 or more individuals.
One of those breaches, Shields Health Care Group, affected an estimated two million individuals. Three others, at just the halfway point of the year, each exceed the one million record exposures mark.
Verizon's 2022 Data Breach Investigations Report (DBIR) took a closer look at nearly 850 cyber incidents in healthcare from the previous year and discovered that healthcare organizations frequently fall prey to attacks coming through basic web applications, and there has been an increase in system intrusions in the past five years.
The report notes, "Healthcare has increasingly become a target of run-of-the-mill hacking attacks and the more impactful ransomware campaigns."
Of the healthcare attacks Verizon investigated, 61% of them were from external threat actors, and 95% of them were financially motivated. However, healthcare continues to struggle with breach issues caused by internal threat actors, often in the form of miscellaneous errors.
These statistics are just some of the evidence that organizations need to shore up their cybersecurity controls to strengthen their defenses against outside threat actors but also extend security awareness and training opportunities internally.
Working with an Expert
Hospital and health system executives continue to look for scalable ways to bolster their existing programs in an effort to keep up with the rapidly evolving challenges unique to healthcare cybersecurity. Clearwater has been partnering with hospitals and health systems since 2010 to help leverage the right cybersecurity strategies to meet their unique business objectives, compliance requirements, policies, and procedures.
For organizations looking for a complete, scalable, and flexible enterprise risk management program, Clearwater offers a managed services program, ClearConfidence™. ClearConfidence is aligned with NIST standards, offers program leadership and management, and is built around ongoing, asset-level risk analysis. Further, ClearConfidence was created to meet the unique needs of hospitals and health systems to configure their program with components that can be added or declined as needed, like business impact analysis, vendor risk management, and security testing.
Clearwater also offers guidance to help you build executive and key stakeholder engagement, including helping guide your risk-related conversations in a way that directly connects risk to your organization's business objectives and strategies. Instead of presenting your risk list in a one-and-done meeting with a series of ratings they don't understand, our advisors can help you quantify what a risk's financial impact might look like, as well as how it may affect your operational resilience.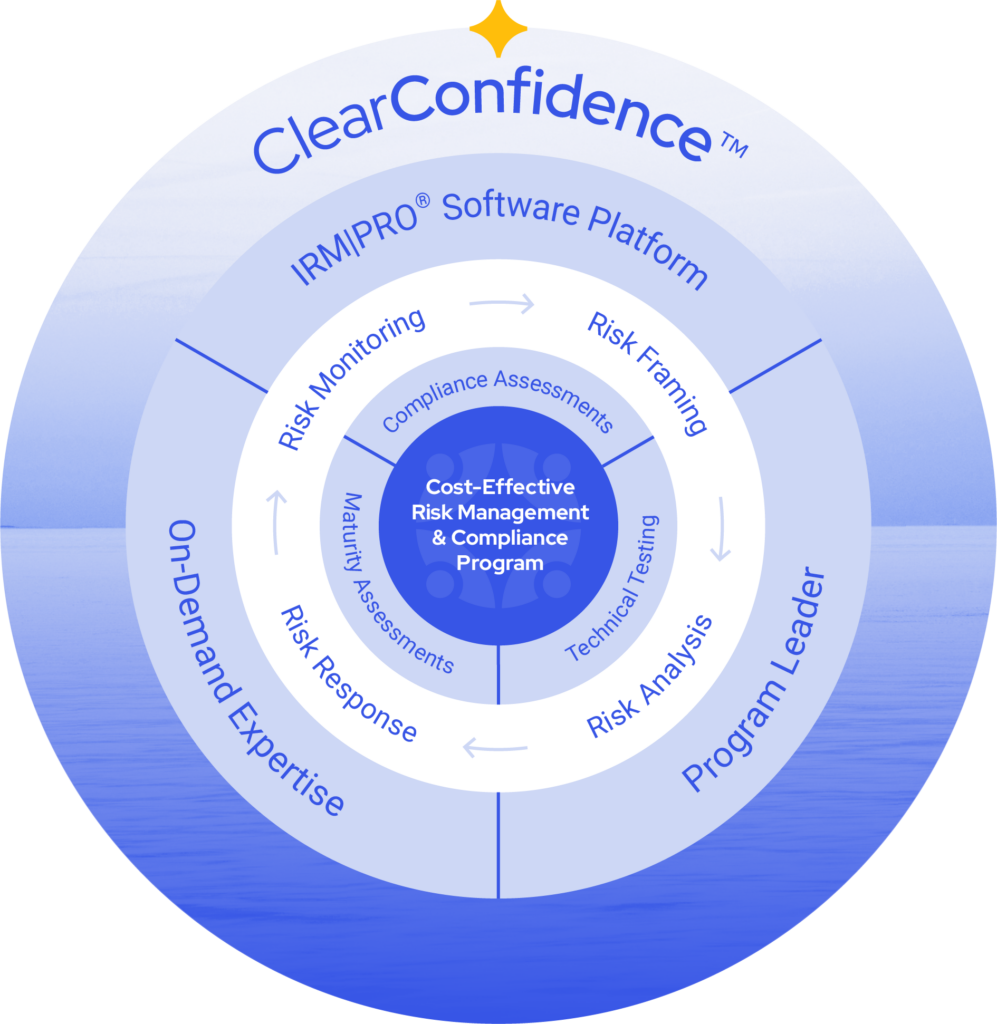 In addition to these program components, ClearConfidence offers an extra layer of support with on-demand access to our cybersecurity and HIPAA experts and our software platform. Whether you have a program started but aren't sure how to scale it for your organization's growth or you're building new from the ground up, we can help you frame, analyze, monitor, and respond to your risks and vulnerabilities better.
Want to know more about Clearwater's cyber risk management services, software, or ClearConfidence? Let's talk.