IRM|Analysis®
The healthcare industry's leading software tool for advanced cyber risk analysis and management
Effective Risk Analysis Requires Precision and Intelligence
IRM|Analysis accounts for the often-missed variance between systems or components to protect your organization from threat actors exploiting those cracks.
The Gold Standard
Since its introduction nearly 10 years ago, IRM|Analysis has become the healthcare industry's gold standard for performing a comprehensive, efficient, by-the-book risk analysis and managing risks continuously. Used by many of the nation's largest health systems, major physician groups, leading health IT companies, and other business partners, the software helps them understand where their greatest risks lie and take action in addressing them.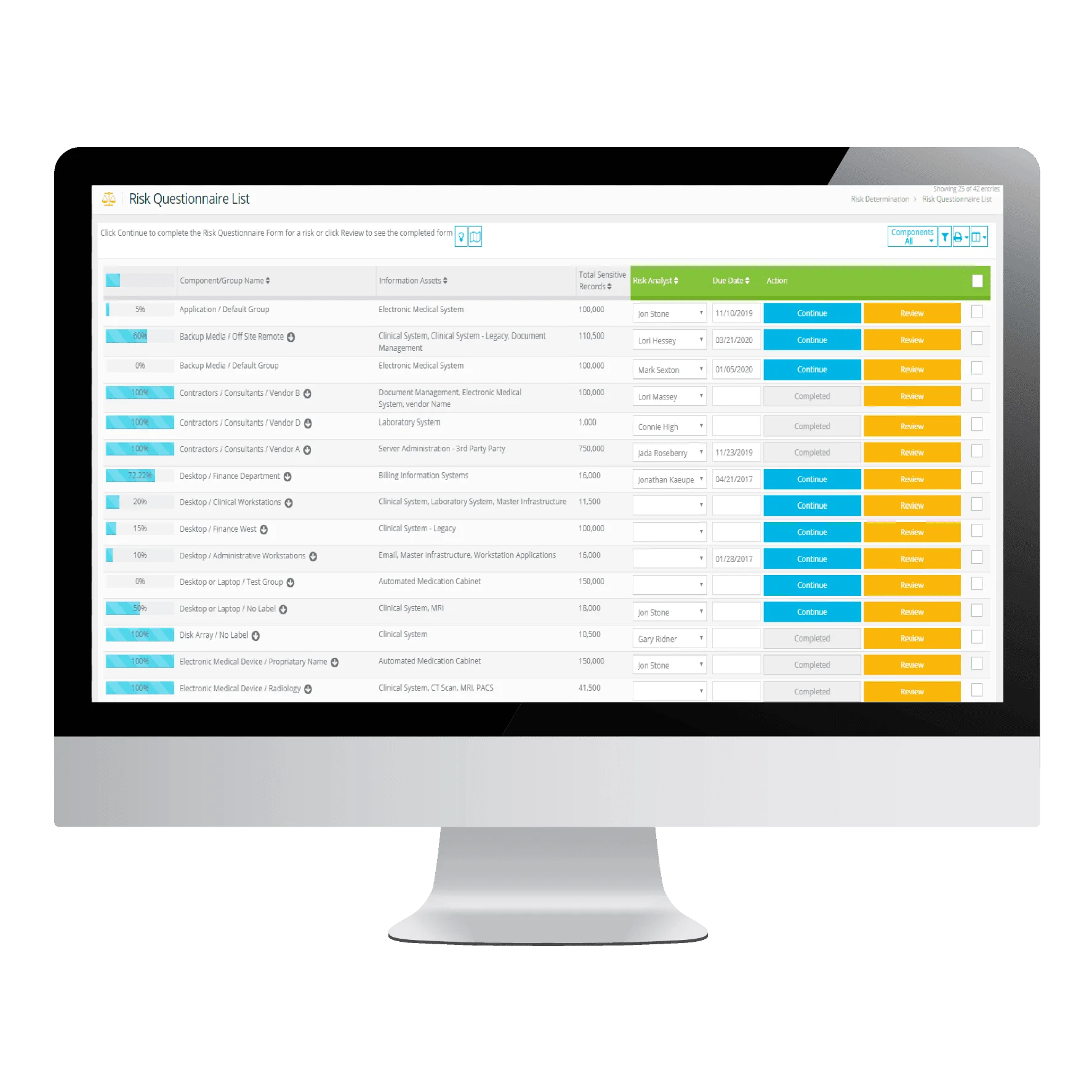 Avoid OCR fines and penalties. IRM|Analysis® meets all nine requirements of a Security Risk Analysis based on the Office for Civil Right's Guidance Publication. OCR has accepted Risk Analyses conducted with IRM|Analysis 100% of the time when performed in accordance with, or in conjunction with, Clearwater's recommendations and advice.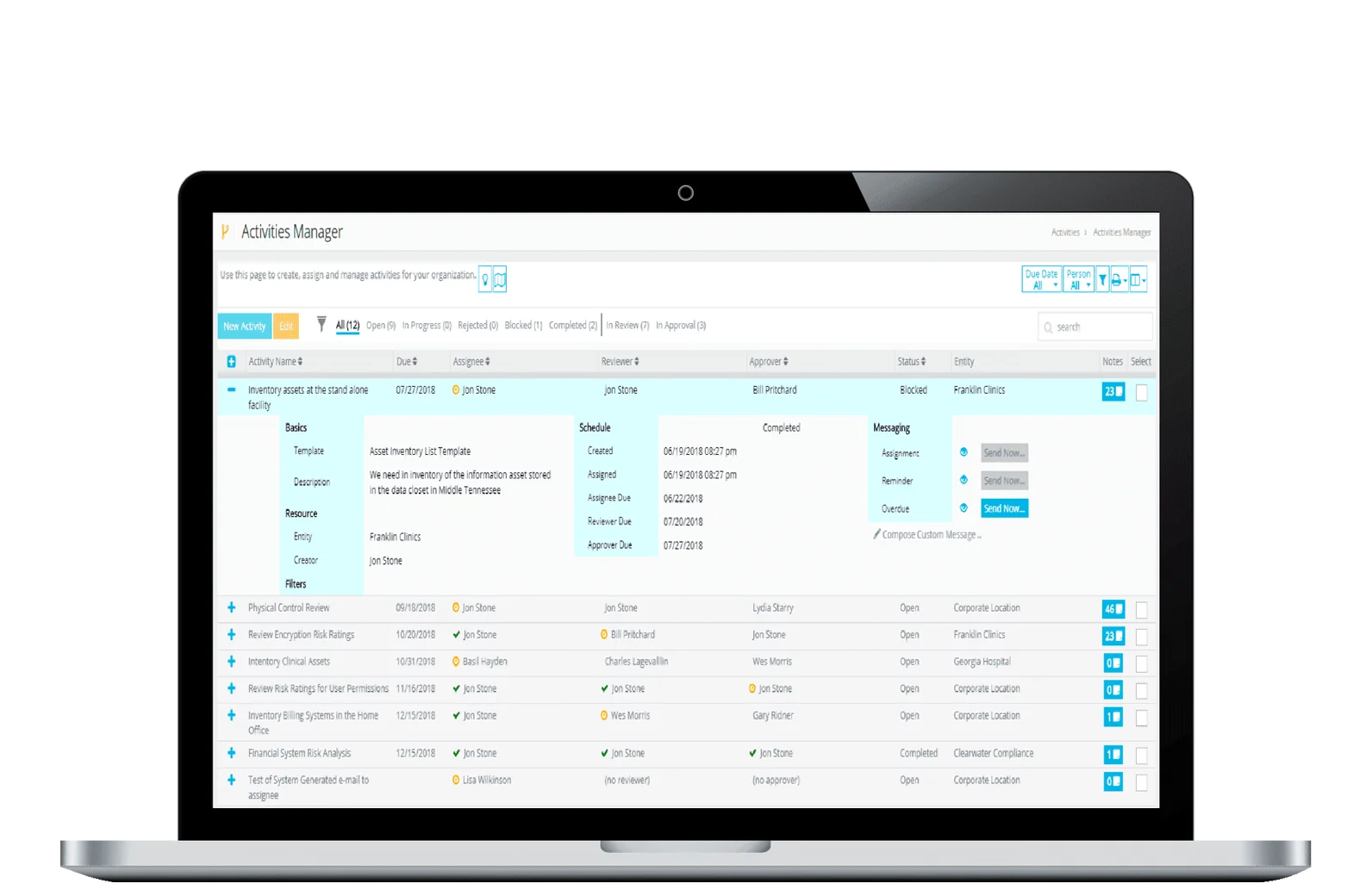 Manage Risk Remediation Workflow
Reduce risk faster and more efficiently while improving visibility within your organization. Enterprise collaboration and workflow tools ensure remediation actions do not fall between the cracks while also providing documentation that can be presented during an audit or OCR investigation.
OCR Risk Analysis Guide
A wizard-style guide to walk through a risk analysis that will hold up to the rigors of an OCR audit.
CyberIntelligence® Dashboards
A comprehensive, real-time view of all risk analysis activity that highlights your biggest areas of exposure.
Predictive Risk Ratings
Draw upon the millions of risk scenarios analyzed within the software over time to make better risk rating decisions and maximize limited resources.
Peer-to-Peer Benchmarking
Benchmarking capabilities empower you to compare your performance across key risk analysis and information risk management metrics to relevant peers.
Risk Response Tracking & Optimization
Reduce risk faster with enterprise collaboration tools that ensure remediation actions don't fall between the cracks and you're ready for an audit or OCR investigation.
Entity Hierarchy
Cascade elements of your risk analysis to "child" entities, creating efficiencies and consistency.
Regulatory Reporting
A risk register report can be printed and submitted to the Office for Civil Rights with just a few clicks.
Information System & Component Inventory
Better secure your organization with a complete view of exposures and cyber risk while tracking progress on remediation efforts to bring risk to an acceptable level.
Armed with IRM|Analysis, Clearwater customers have identified and remediated previously unknown high risks and achieved a 100% success rate when they submit risk analysis to the Office for Civil Rights.
See the Clearwater difference 
Madison Health has purchased several of Clearwater's software applications–IRM|Privacy®, IRM|Security®, and IRM|Analysis®. We also commissioned Clearwater to do our Risk Analysis utilizing their Risk Analysis package. I am very impressed with the professionalism, attention to detail, and the knowledge level of all those we have come in contact with. The quality and content of their website and the webinars they conduct are extremely valuable to our organization. It is a pleasure working with their team.
I wanted a solution that would tightly follow the NIST framework. At that first session, I saw that Clearwater's solutions not only followed the NIST framework, but also automated the process, making it much easier for an organization like Encompass Health to manage and maintain.  I also saw a clear alignment between OCR guidelines and what Clearwater was doing.
We really enjoyed working with everyone on the Clearwater team and feel that the consulting engagement and IRM|Pro® software solutions have been key foundations for building our ongoing compliance initiative.
As an educating organization, Clearwater has embraced the next generation of Security Risk Professionals. Working with the Clearwater for the past 5+ years has been an honor. I have the privilege of exposing our students to the best-of-breed IRM|Analysis® product created by a best-of-breed company.
Learn more about how Clearwater can help you achieve your mission
Why Clearwater?
Mitigate Risk Scenarios
With built-in algorithms and machine learning, IRM|Analysis automatically analyzes and suggests the likelihood and impact of a threat exploiting vulnerability using a 5×5 scale based on your organization's definitions.
risks analyzed in IRM|Analysis
*Risk Analyses performed by, or in consultation with, Clearwater have been accepted by the Office for Civil Rights 100% of the time.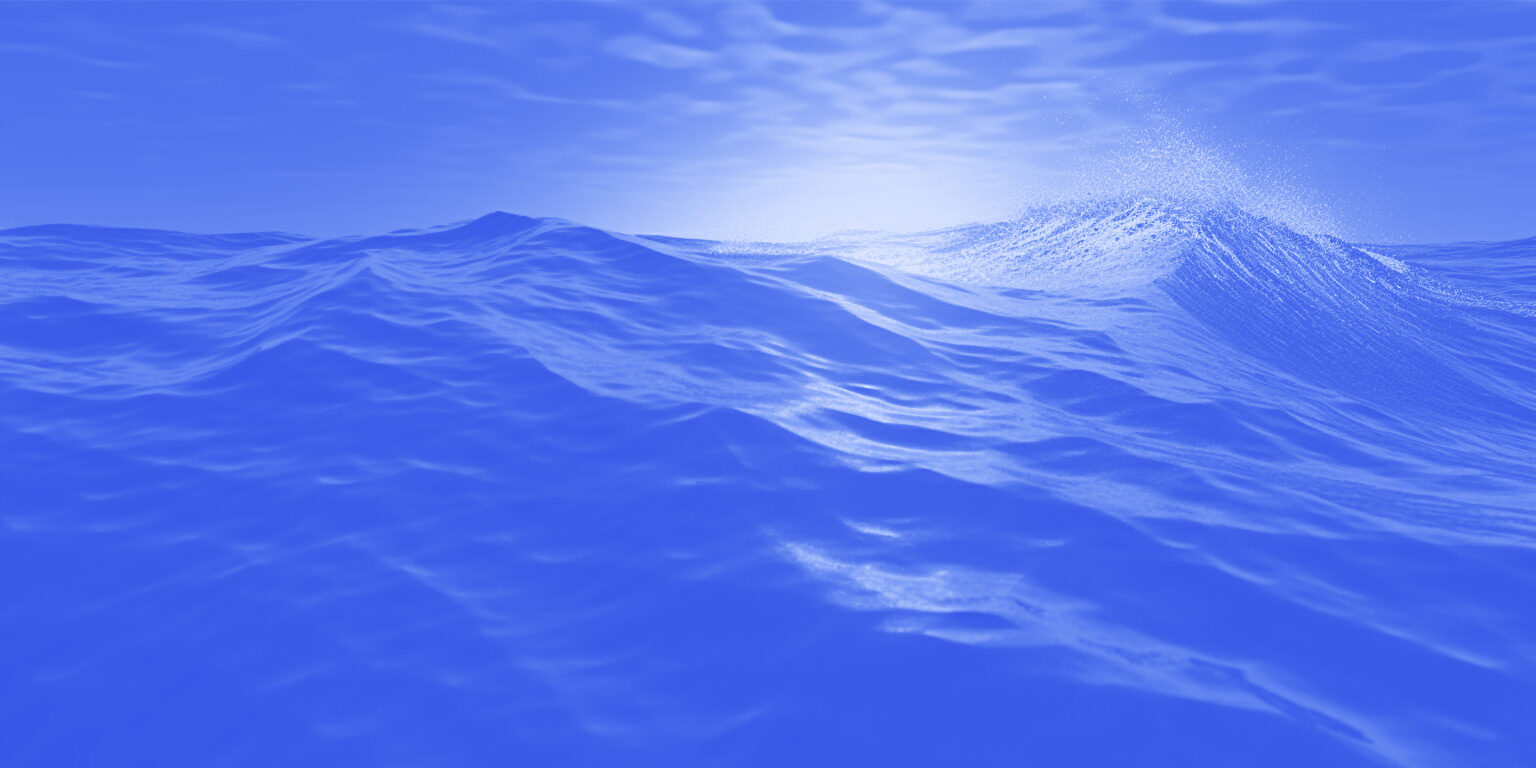 Risk Analysis & Risk Response
With a 100% OCR success rate and two decades of expertise, we'll bring you visibility to your greatest risks and vulnerabilities so you can respond appropriately and ongoing risk monitoring if needed.